Triple J Newsreader visits Our Lady of the Way
28 Apr 2016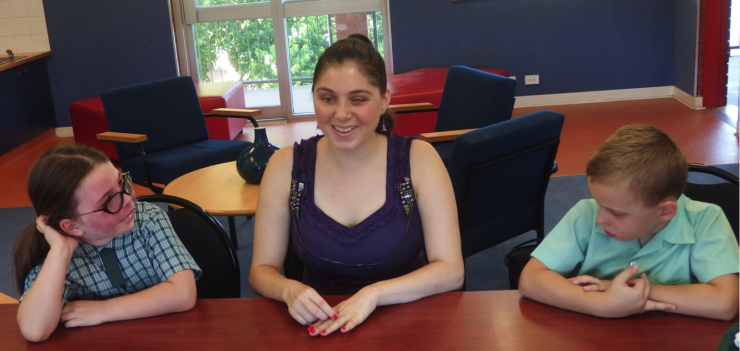 From left to right: Asha, Nas and Edward.
On Wednesday 24 February 2016 Triple J newsreader and former student of the Diocese of Parramatta Nastasia Campanella visited Our Lady of the Way (OLOW)Primary, Emu Plains to share her experiences of being blind with the school community.
Nas lost her eyesight when she was six months old when a rare abnormality caused the retinas to tear away from her eyes. She never let her disability get in the way of her determination to be a journalist, even though her challenges are greater than most.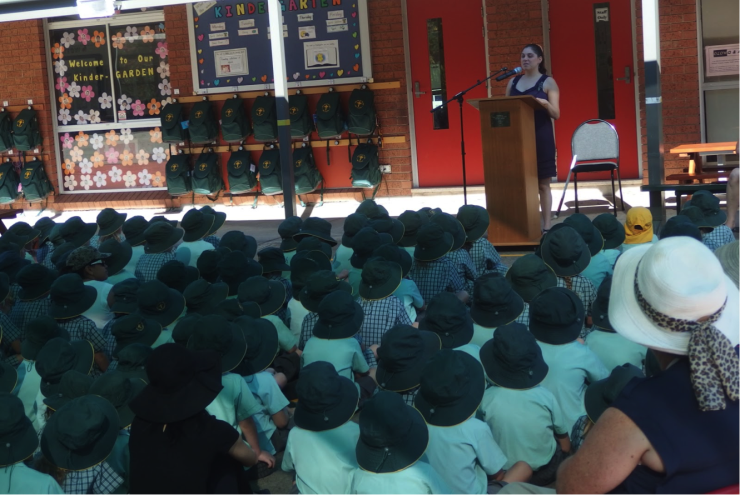 Nas speaking in front of the whole school assembly.
In addition to being blind, Nas suffers from a genetic disease called Charcot-Marie-Tooth, near-total lack of sensitivity in her fingertips and hands, meaning she cannot read braille. As a child, she said she hated reading and used to cry herself to sleep every night for feeling like a failure and wanted to do nothing more than sit with a book.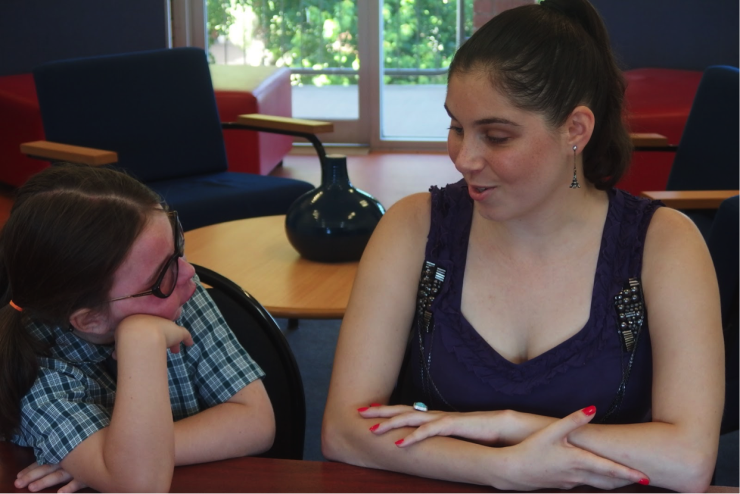 Asha and Nas.
It was with the support of teachers, in particular one teacher's aide at her primary school that Nas was introduced to audio books and a screen reading software called Job Access with Speech (JAWS), that her attitude towards learning changed.
'This enabled me to go from being a student who struggled and hated being at school, to someone who thoroughly enjoyed it and still loves learning today,' Nas said.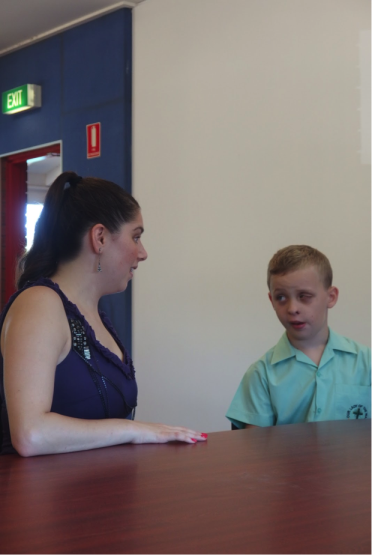 Nas and Edward.
OLOW parent, Anna Federoff said that as a mother of a child with a severe vision impairment the opportunity to hear about Nas' experience and success was extremely appreciated.
'To hear Nas's story and life experiences has helped me better understand what life can be like for my daughter, Asha,' Anna said. 'Asha also took so much away from the day, as she was able to interact and ask any questions of Nas.'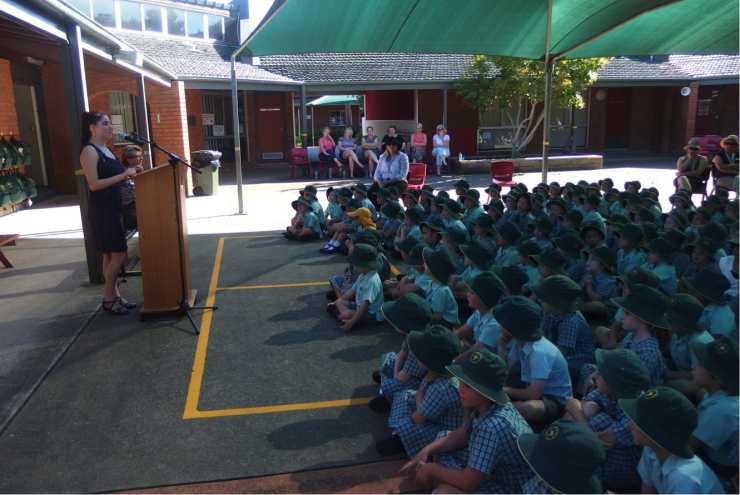 Nas speaking in front of the whole school.
Another parent, Patricia Smythe said she found Nas to not only be a courageous, determined, intelligent young woman but that she also has a beautiful and kind heart.
'She took the time from her busy life to inspire the OLOW students and also to explain to everyone that 'disability' is just a word,' Patricia said. 'Her story is truly inspirational and her visit has left a mark on many of us.'
Principal Sue Veling said Nas is inspiration for all students to overcome challenges and pursue their passion.
'We have been very fortunate that Nas has offered to become a lifelong mentor to the students at our school,' Sue said.