Student art lights the night in Blacktown
15 Dec 2014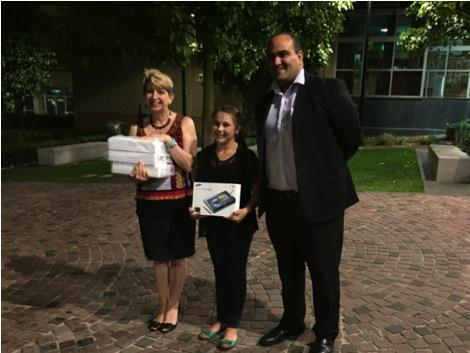 Principal Sue Veling and Year 6 student Caitlyn Preston were presented with their prizes
Congratulations to students at Our Lady of the Way Primary, Emu Plains who have won the Telstra 'Projections' Competition in Blacktown.
Students were asked to design a poster of 'Western Sydney's Brilliant Connected Future'. These artworks lit up the night sky as all entries were projected onto the Blacktown Civic Centre for one week during November.
Year 6 winner, Caitlyn Preston won a Samsung Galaxy Notebook, and three for the school.
Caitlyn said that she was very shocked and proud to win.
'I was trying to create a piece that showed how technology could be used in the future to help hearing and vision impaired people in our community,' said Caitlyn.
Principal Sue Veling said that all student entries showed a creative flair for design and a passion for technology.
'Caitlyn communicated a clear vision of the possibilities and opportunities technology will provide for our 21st century learners,' said Sue.