Our Lady of the Way Student Selected for Special Role in Scholastic Review Crew
24 Feb 2015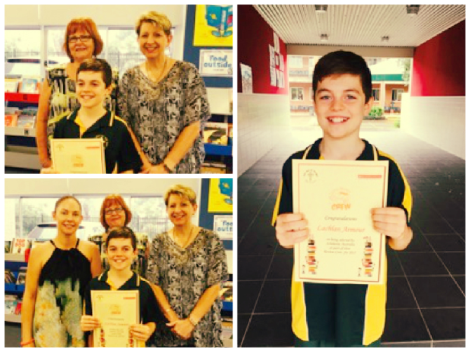 Lachlan Armour Joins Scholastic 'Review Crew'
Congratulations to Lachlan Armour, student from Our Lady of the Way, Emu Plains who has been selected to take on a special role in the Scholastic 'Review Crew' for 2015.
Each year Scholastic selects a student with a love of reading to become part of their specialist team of book reviewers. "I felt really excited because I'm one of only twenty students in Australia to be chosen. I feel it's a once in a lifetime opportunity to be able to review great books before they are published," said Lachlan.
Scholastic Representative, Leanne Port presented Lachlan with ten new books to add to his growing bookshelf. Principal Sue Veling commented that it was wonderful for students to have the opportunity to provide their thoughts and feedback directly to a publishing company. "What a valuable stepping stone for one of our children to have first-hand experience of the publishing process," said Sue.