Our Lady of the Way graduates inspire young students
11 Dec 2014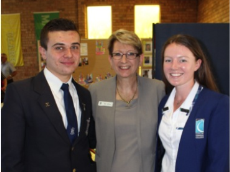 Peter and Samantha with Principal Sue Veling
Students from Our Lady of the Way Primary, Emu Plains have been named as school captains for three feeder high schools - St Dominic's College, Caroline Chisholm College and McCarthy Catholic College.
Peter Pavlakis, Daniel Morgan and Samantha Arnold attended Our Lady of the Way Primary and Peter and Samantha were Year 6 school captains in 2009.
Last week, both Peter and Samantha returned to Our Lady of the Way to speak at the end of year assembly about life and leadership after primary school and shared the characteristics of good leaders.
Principal Sue Veling said it was an honour to welcome back such deserving students. 'These students displayed characteristics such as self-confidence, humility, enthusiasm, warmth and a sense of humour in their younger years and I was particular impressed with their passion,' said Sue.
Sue said the school community is very proud of the achievements of past students who are role models for younger students. 'Through awareness of what it takes to be a good leader we can all build habits that make are more effective.'