Our Lady of the Way Catholic Schools Week Art Exhibition
12 Mar 2015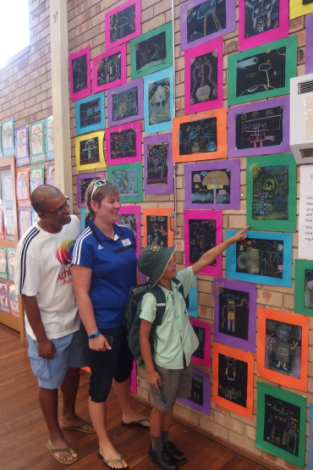 At Our Lady of the Way, Emu Plains Catholic Schools Week is being celebrated with all students showcasing their artistic talents in the school Art Exhibition.
The theme for Catholic Schools Week 2015 is 'Educating for today and tomorrow'. Each piece is themed around "OLOW – of tomorrow". The students' works represent a wide range of approaches and styles including painting, 3D models, drawing, collage and craft.
Principal Sue Veling commented that Catholic Schools' Week is a wonderful opportunity to bring together the community. "Our thanks go out to the devoted parents in our school community who are always eager to support our students' endeavours", said Sue.
Artworks are on sale to parents with the aim of raising $1500 to help send a teacher from OLOW to World Youth Day in 2016.