OLOW students meet Prime Minister Tony Abbott
26 May 2015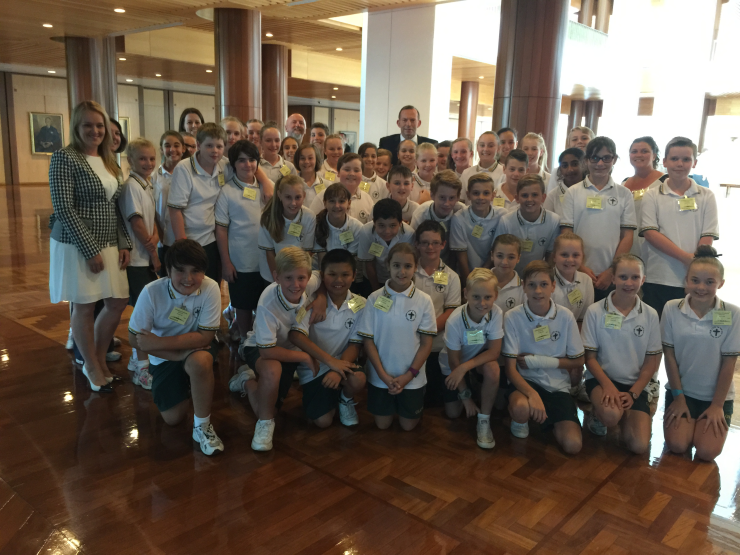 Prime Minister Tony Abbott, MP Fiona Scott and OLOW Year 6 class.
Year 6 students from Our Lady of the Way (OLOW) Primary, Emu Plains got a special surprise when Prime Minister Tony Abbott joined the class on their excursion to Parliament House in Canberra.
Mr Abbott, who had formerly trained as a deacon at the Our Lady of the Way Parish, Emu Plains in 1986, was delighted to share his time and experiences with the students.
'It was nice to think that the place is still going strong and that the school came to Canberra to learn more about our parliament and our democracy,' said Prime Minister Abbott.
Federal Member for Lindsay, Fiona Scott MP who had hosted the tour said she could tell it was a special meeting for the Prime Minister because of his connection to the parish and his time with former Parish Priest Fr Kevin Hannan.
'As soon as Mr Abbott saw the kids he asked them, "how many of you have heard of Father Hannan?",' Fiona said. 'They were so excited but he was just as excited as they were.'
Students said the excursion was a memorable experience that proved they could be anything they wanted to be, if they put their minds to it.
Principal Sue Veling said she was glad Prime Minister Abbott had time to meet the children.
'He impressed the students and teachers with his caring nature and the patient way he answered their questions,' Sue said.
School leaders presented Prime Minister Abbott with a candle and postcard of the school's learning platform signed by all the Year 6 students.