Congratulations to winners of the Executive Directors Summer Reading Challenge
11 Apr 2014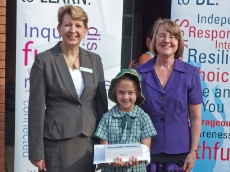 Abbey Flanagan receives her award from Principal Sue Veling and Director of System Performance (Penrith-Mountains) Christine Howe
Students from the Diocese of Parramatta have excelled in the Executive Director's Summer Reading Challenge with over 8,000 books read during the summer.
Over 500 students from Catholic schools across the Diocese of Parramatta entered the competition this year.
Congratulations to the four winners:
Age 5-8
Benjamin Pumfrey, St Joseph's Primary, Schofields
Abby Flanagan, Our Lady of the Way Primary, Emu Plains
Age 9+
Alexander Harrison, Christ the King Primary, North Rocks
Stephanie Southam, Nagle College, Blacktown
Winning students were presented with an iPad and a certificate at presentation ceremonies held over recent weeks. All participating students have received certificates in recognition of their efforts.
Three students read an outstanding number of books well over the minimum 10 books required to enter the summer-long reading challenge.
101 books Aryan David Roy 5-8 years from Our Lady of Lourdes, Seven Hills
261 books Sebastian Sammut 9+ age from Our Lady of Mount Carmel
210 books Claudia Sammut 5-8 year from Our Lady of Mount Carmel
Executive Director of Schools, Greg Whitby said the challenge is a great way to motivate and encourage young readers.
'Reading is such an important part of learning and it is great to see so many of our students enjoying their time reading their favourite books,' said Greg. 'If we can develop a love of reading in our children, we can lay the foundation for a lifelong love of reading and learning.'