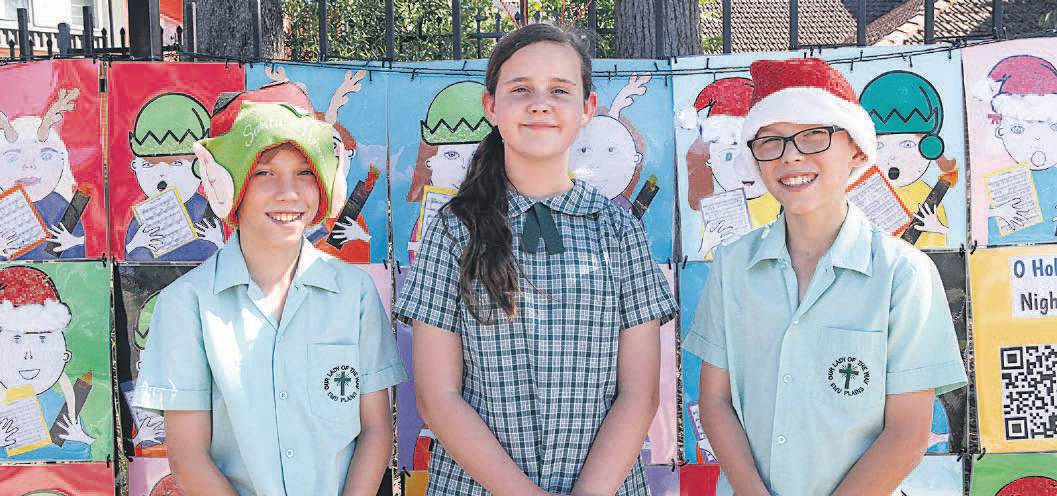 Jayden and Brodie Miles with Hannah Selby. Photo: Melinda Jane.
Local school students help record song that raises money for rural kids in need
Last year country music artist Jason Owen started 'Doin it for Rural Aussie Kids', a charity to help children from rural communities in need.
This year, to support the 2020 appeal, Jason has enlisted the help of three local Year 6 students to sing back-up with him on a very special song.
As part of the initiative, Jason has released a cover of the John Lennon classic 'So This Is Christmas' to help the appeal that delivers money, toys, gifts and groceries to children around the country.
Helping towns affected by bushfires, drought and now COVID-19, Jason said he wanted to get some special kids on board.
"My producer found three amazing singers in Hannah, Brodie and Jayden whose school was near the Blue Mountains bushfires but luckily wasn't affected," he said.
"They, like other kids around Australia, have gone through a scary time due to last year's events and I'm glad they had such a great experience singing on the track."
It was the first time that identical twins Brodie and Jayden Miles and their classmate Hannah Selby from our Lady of the Way in Emu Plains have sung professionally on a single.
11-year-old Hannah from Emu Heights said she loved the experience of being in the recording studio for the first time.
"I felt quite at home in the studio and I had to record the chorus eight times, as they needed to put an echo like effect on it as part of the song," she said.
The 11-year-old Orchard Hills twin brothers said it was nice to give back to kids going through a tough time.
"It was a very scary time for us last year because we were worried the fires might reach where we were, but we were lucky that it didn't hit us," Jayden said.
"It's nice to be able to help kids by singing on a charity single so they can have Christmas presents to look forward to, especially if their homes got burnt down."
You can download 'So This is Christmas' via iTunes or other music streaming platforms.