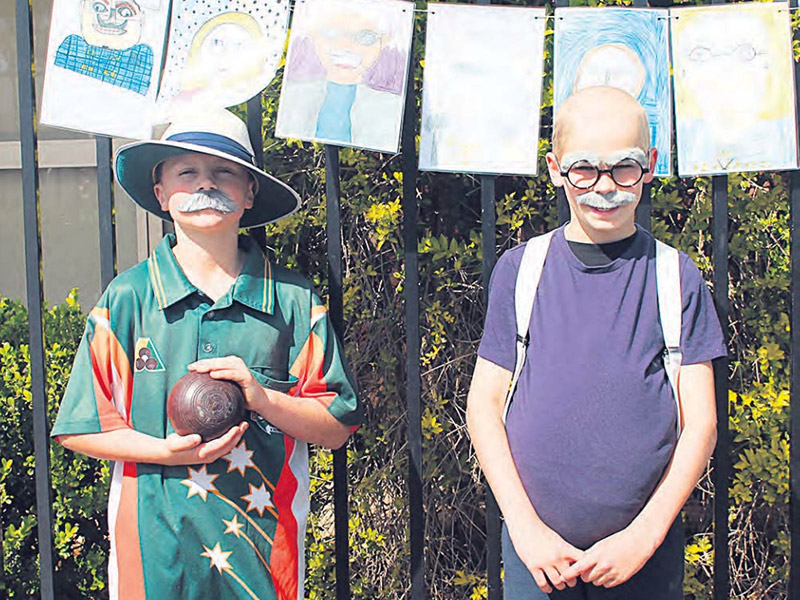 Lucas Latty and William Elford dressed up like their granddads. Photo: Emily Feszczuk
Our Lady of the Way school students find special way to celebrate family
Our Lady of the Way school in Emu Plains has had to get creative with its community celebrations of Grandparents Day with the current COVID-19 restrictions.
Our lady of the Way Principal Donna McFadzean said the event is usually the biggest community day for the school.
"A lot of the grandparents have been connected with the school from the beginning as some were the first students or built the school, so we celebrate that and their love generations later," she said.
"Grandparents also love seeing the children's work, so we have hung their portraits on the fences around the school to share with the wider community."
Our Lady of the Way Assistant Principal Emma Mizzi said the still wanted to have a fun day despite grandparents not being allowed to visit.
Usually we would hold a big mass and showcase classes then a BBQ, but instead students got to dress up like their grandparents, play old games along with writing letters to their grandparents," she explained.
"We have made a movie with photos of the portraits and students to share on social media so we can show what we are doing with all of the families."
Year 5 student William Elford went the extra mile dressing up, even shaving part of his hair to match his grandad.
"I am named after my grandad and I share a birthday with my other one, so I am very close to them. Mum thought it would be funny to give me a haircut like his," William said.
"I love my grandparents so much and, when they look after me while Mum is at work, Nan gets me takeaway and has loads of ice cream, which I am not usually allowed."
Lucas Latty from Year 6, who also got into the spirit of the day, said he enjoyed the activities.
My grandparents are special to me because they look after me so well and play lots of games with me," he said.
"I had a lot of fun doing my portrait and I play bowls with my grandad, so I wanted to dress up exactly like he does."
---
Learn more about Our Lady of the Way Primary Emu Plains